Kaiolohia Beach
Shipwreck Beach
Video
Description
Located on Lanai's north coast, Shipwreck Beach is more than eight miles long and borders the Kalohi Channel. This ocean channel is known for its strong currents so Shipwreck Beach is not recommended for swimming. This remote, wide and sandy beach is great for long walks and beachcombing, or just relaxing and enjoying the scenery including a nice view of the island of
Molokai. Winds are often strong here in the afternoons so come early if you want a more enjoyable walk.
Great For
Beach walks, picnics, exploring, beachcombing.
Highlights
Finding shells and other items along the beach is fun here. Beachwalks also allow you to appreciate the unique lava formations along this coastline, and photographers love to photograph the views of Molokai across the Kalohi Channel. Just a short walk past the Shipwreck sign leads to a trail which goes inland for about 200 yards to the Kukui Point petroglyphs.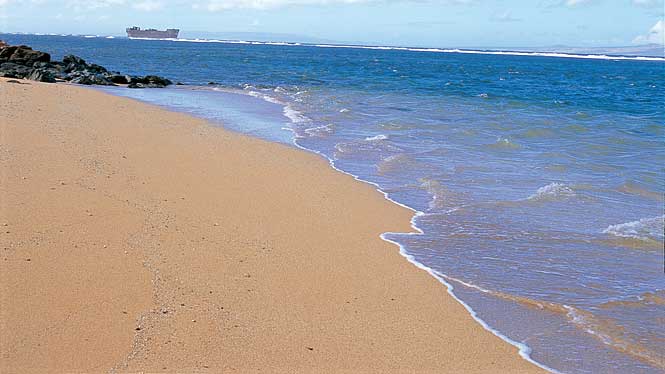 Need to Know
Recreational swimmers should find a more protected beach. The currents in this channel have sank many boats, leading to the beach's name. Just offshore you can see the rusted hulk of the World War II Liberty Ship. You will also see the ruins of an old lighthouse here.
Lifeguard
No
Facilities
No
Access
From Lanai City follow Hwy. 44 to the end and then turn left onto the dirt road which leads to a parking area.
© 1997-2011 Aloha from Hawaii