Waimea Bay Beach Park
Video
Description
During the winter months the world-renown Waimea Bay is the site of some of the world's biggest waves. Other times of year this is a quiet, placid beach, great for swimming and snorkeling, particularly on the south side of the bay which is a great snorkeling area when the water is calm. A large rock on one side of the bay is a favorite place for local kids to jump from.
Great For
Watching big-wave surfers. Surfing, bodysurfing, sunbathing and snorkeling when the waves are small.
Highlights
The Waimea Bay shoreline is lined with spectators when the conditions are right during a big winter swell and the big wave riders are doing their thing. Waimea is known for being the one place that breaks well when the waves are so gigantic that all other surfing breaks are unrideable. This is one of Oahu's most popular beaches during all times of year.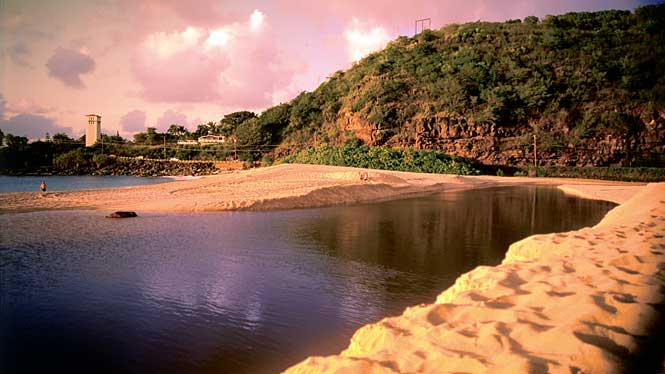 Need to Know
This beach is dangerous during the winter months due to shorebreak and currents. Watch but don't go near the water.
Lifeguard
Yes
Facilities
Restrooms, showers, picnic areas, phones, parking.
Access
Located on Kamehameha Highway (Hwy. 83) about 5 miles north of Haleiwa Town.
© 1997-2011 Aloha from Hawaii